Copyright © 1995-2011 Scott Larson
Festival minceur
Astute, persistent and obsessive readers of this web site may have noticed that something was different this summer.
For the first time in six years there was no report from the Galway Film Fleadh. The Fleadh is one of my very favorite film fests, and it pained me deeply to have to give it a miss. After all, during the past decade it has been the only film festival I have been able to commute to from home. Among the delights I missed because of my absence was the premiere of The Guard, which has been getting great reviews everywhere. Strangely, the movie has already made it to America, as well as playing in Ireland, but it won't appear in Great Britain for weeks. Not sure what to make of that.
Anyway, my excuse for missing the Flead is that it fell too close to a high school reunion in California. Any trip to the west coast of America automatically has to include several mandatory stops all the way from Seattle to Disneyland (more about that next week), so Galway was necessarily off the calendar in July.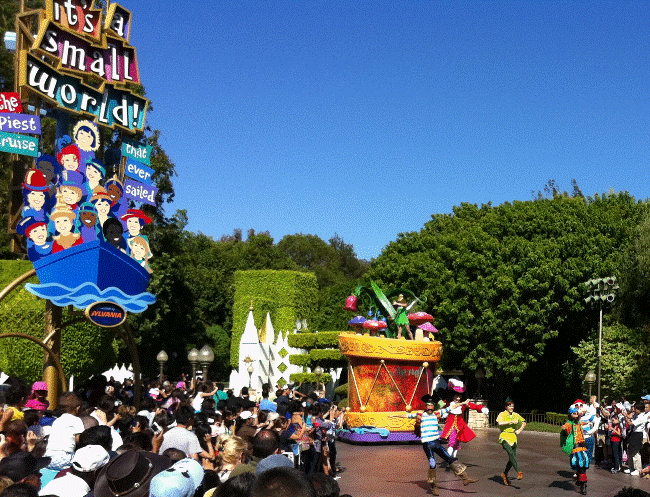 Tinker Bell, Capt. Hook and Peter Pan take part in a parade through Disneyland
While I had a good time visiting old haunts and meeting up with old (and young) friends and family, missing Galway means that I am in serious film festival withdrawal. Of course, thanks to the fact that we are all now living in the future, one can really have his or her own film festival whenever he or she likes. With practically every movie ever made at one's fingertips via internet, satellite and even snail mail, one can program one's own film festival and make it as eclectic as one. But there really is no substitute for real film festival programmers, who locate and screen movies you may never have heard of or would have thought to go after.
Just today, though, I have organized by own personal little film festival. And I do mean little. In fact, it lasted all of about 25 minutes. Actually, what I did was watch two short films that have been in my queue since before I went abroad. So here's is my journal of the Scott's Movies Mini-Short-Films Festival of 2011:


Guillotine Guys: Someone pointed me to this ages ago. I am not even sure who it was, but maybe it was James Ricardo, who is credited as the writer/director. Clocking in at around seven minutes, this is what I categorize as a joke film. I don't mean that in a derogatory way. It's just how I sum up a movie that has one joke and builds up to one punch line. If it were expanded into feature length, it is exactly the kind of movie that could play at midnight at any decent film festival. There is a bit of gore, a bit of shock, and a healthy dose of black humor. Given that the point of the film is to lead up to the punch line, it really isn't fair to say much about what happens. Suffice it to say, it involves a clerk in a convenience store (played by Russ Kingston), which is apparently located a crime-ridden part of town. But he seems to have a system for dealing with the occasional hold-up artist. The film is well made and it made me laugh. It also made me groan, but in a good way.


Freak: This is a much more substantial film, and not merely because it is 18 minutes long. Writer/director Eric Casaccio clearly has ambitions for Freak, which touches on themes unmistakably close to his heart. Confined to a single apartment and with a single actor (Aaron Merken in the title role) for the vast majority of its running time, the true action in the movie is really in the head and heart of its protagonist. Randall, who also goes by Sophia (to the frustration of his mother), is up for an acting part, but he is clearly a basket case over the impending audition. Casaccio packs a ton of backstory into a few brief scenes, bits of dialog and the expressions on Merken's face. The first half of the film plays like some sort of duel between Randall/Sophia and his telephone/answering machine. As he rehearses in front of a mirror, the phone seems to determined to interrupt him at every turn. Messages left by his temp agency, his credit card company, his agent and his mother seem calculated to weigh him down and defeat him. The only other actor to appear on screen is K.C. Morgan, as a neighbor and fellow aspiring actor who seems to have everything going for him. (Casaccio would know something of the travails of actors starting out in Los Angeles. He has appeared in a number of short and feature films, including the upcoming fantasy comedy Walk a Mile in My Pradas.) The director is nothing but skillful as he draws a fully formed character struggling with insecurities that are both uniquely personal and still universal. As the hour of the audition draws near, the only question is whether this movie will leave us depressed or uplifted. Happily, it gets it right.

-S.L., 4 August 2011
---
If you would like to respond to this commentary or to anything else on this web site, please send a message to feedback@scottsmovies.com. Messages sent to this address will be considered for publishing on the Feedback Page without attribution. (That means your name, email address or anything else that might identify you won't be included.) Messages published will be at my discretion and subject to editing. But I promise not to leave something out just because it's unflattering.
If you would like to send me a message but not have it considered for publishing, you can send it to scott@scottsmovies.com.
---